Looking to add some symbols and emojis to your messages? We've put together a collection of Shrimp Emojis that you can easily copy and paste. We have Shrimp Emojis, Symbols ,and Emoticons in Text, png, ASCII, and art forms. They will add a playful touch when you share them on Twitter, Reddit, Discord, Instagram, Facebook, YouTube & even on WhatsApp.
Please scroll down if you want to copy the Emoji/Symbol
Simply click on them to copy and then paste them to make your chats on iPhone/iOS or Android more interesting. We also tell you about the meanings behind them along with the meanings of shark emoji and fish emoji. It's almost like inserting a hidden message or meme into your texts. So, feel free to check out everything below:
Shrimp Emoji 2023
| | |
| --- | --- |
| Symbol | Copy & Paste |
| 🦐 | 🦐 |
| 🍤 | 🍤 |
Learn More : Discipline Symbol
All Emojis that can be used for Shrimp
🍤 🦐 🦐 🦞 🦀 🦑
How to use these Emojis ?
Copy and paste the Shrimp Emoji in just one click. Just click on the copy button next to the emoji/symbol and done! It is now copied, you can now insert it anywhere by simply pasting it anywhere you want.
Shrimp Emoji Meaning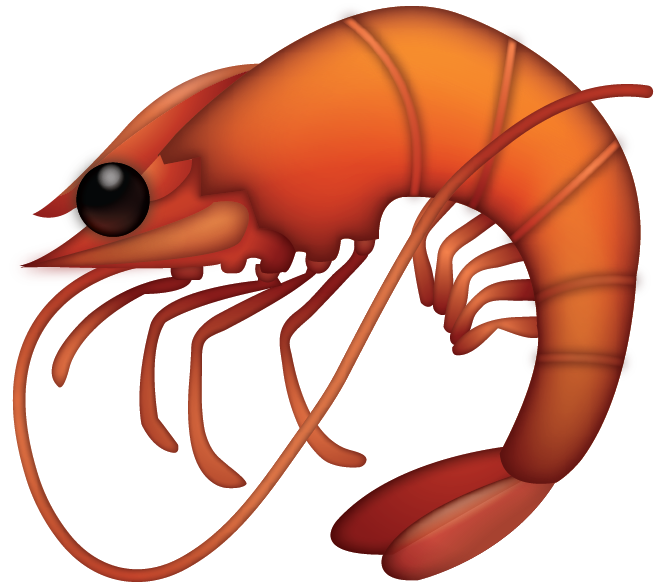 The 🦐 shrimp emoji isn't just a tiny sea creature on our screens; it's a symbol of flavor and diversity. Shrimp come in all sizes and colors, highlighting the beauty of differences. Just like in a seafood buffet, where shrimp represent a variety of tastes, this emoji reminds us to appreciate the richness of life's experiences. From cocktail parties to seafood feasts, the shrimp emoji adds a dash of excitement. Beyond its small size, it carries a big message: embrace the uniqueness in yourself and others, and savor the spicy moments that make life deliciously interesting.
Read More: Snail Emoji
What does the Shrimp emoji mean?
A Shrimp refers to all cooked seafood.
You may see someone using a Shrimp when they post a picture of a yummy seafood feast, or they're headed to a seafood restaurant. Try pairing this shrimp emoji with other seafood or food emojis.
What emoji is Shrimp?
A shrimp (shrimp) is a tiny crustacean that has a long tail. It is usually shown as a reddish orange shrimp (cooked) in full view facing left. It has small eyes, lots of limbs, and long antennae that curl back as the long tail curls inside. It can be eaten as Fried Shrimp or Shallow Pan of food.
Checkout: Frog Emoji
What does the shrimp emoji mean in sexting?
Meaning: Penis. Use: While the eggplant has come to be the trademark for the penis, some honest men have leant into the shrimp emoji for the same meaning. This one really depends on the equipment in subject, but more often than not, using the eggplant in replace of the word penis will be obvious enough.