Looking to add some symbols and emojis to your messages? We've put together a collection of Saturn Emojis that you can easily copy and paste. We have Saturn Emojis, Symbols ,and Emoticons in Text, png, ASCII, and art forms. They will add a playful touch when you share them on Twitter, Reddit, Discord, Instagram, Facebook, YouTube & even on WhatsApp.
Please scroll down if you want to copy the Emoji/Symbol
Simply click on them to copy and then paste them to make your chats on iPhone/iOS or Android more interesting. We also tell you about the meanings behind them along with the meanings of Jupiter emoji and Earth emoji combos. It's almost like inserting a hidden message or meme into your texts. So, feel free to check out everything below:
Saturn Emoji 2023
| | |
| --- | --- |
| Symbol | Copy & Paste |
| 🪐 | 🪐 |
| 🌕 | 🌕 |
Learn More : Triangle Symbol
All Emojis that can be used for Saturn
🌕 🪐 💫 💫🌌 🧿
How to use these Emojis?
Copy and paste the Saturn Emoji in just one click. Just click on the copy button next to the emoji/symbol and done! It is now copied, you can now insert it anywhere by simply pasting it anywhere you want.
Saturn Emoji Meaning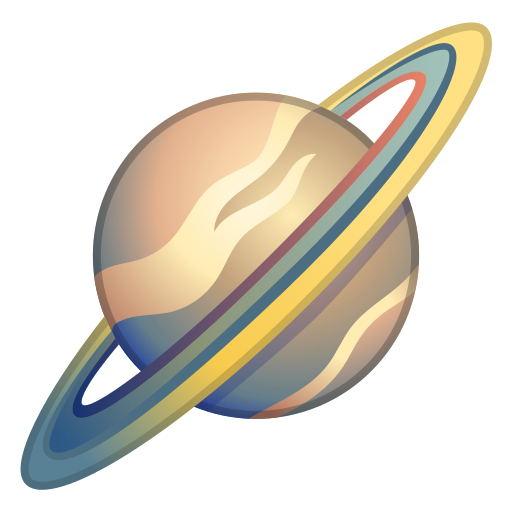 The Saturn emoji isn't just a planet; it's a cosmic symbol with hidden meanings. This ringed wonder represents time, patience, and wisdom. Just like Saturn takes nearly 30 years to orbit the sun, it teaches us to value the slow journey. Its rings remind us of life's cycles and the beauty in embracing change. Sending the Saturn emoji can be a nod to someone's patience or a reminder that good things take time. So, when you use this emoji, you're not just sending a planet – you're sending a reminder to appreciate the journey and the wisdom that comes with it.
Read More: Moon Symbol
What is Saturn emoji?
The emoji shows a ringed planet tilted to one side. It strongly resembles Saturn, a planet referred to as the "Jewel Of The Solar System," because of its beautiful, bright rings. This quickly explains why the Ringed Planet emoji is sometimes referred to as the Saturn emoji
What is the Unicode emoji for Saturn?
Saturn – Ringed Planet Emoji or Saturn, Sky & Weather from Category ✈ Travel & Places, Unicode Number: U+1FA90 📖 Emoji Meaning ✂ Copy & 📋 Paste (◕‿◕) SYMBL.
Checkout: Sun Symbol
What is the color of Saturn ?
Saturn is also a giant gas planet with an outer atmosphere that is mostly hydrogen and helium. Its atmosphere has traces of ammonia, phosphine, water vapor, and hydrocarbons giving it a yellowish-brown color.